COMPLETE 257 MW SOLAR MODULE 
MANUFACTURING FACILITY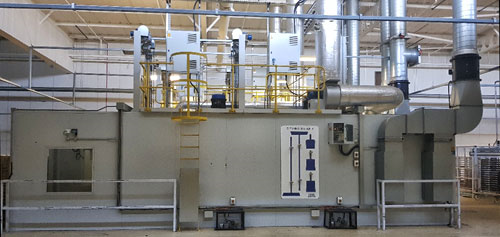 On Behalf of Hotpack Packaging (UK) Ltd. and Ash Group Ltd., SDI-Fabsurplus is pleased to announce the immediate sale of a Complete 257 MW Solar Module Manufacturing Facility
Location: Wrexham, UK
The former production Line of Sharp Solar (UK) Ltd.
Recent vintage
Still installed
Available immediately
Can be inspected by appointment
Please refer to the attached photos showing details of the equipment and the line layout.
Estimated annual output capacity:257 MW per year
Virtually all items making up the line were purchased in 2010-2012.
Following the $15M USD upgrade in 2010-12, the line was operated for less than 3 years until 2014
Made up of 2 lines , each of approximate capacity 128 MWp
Currently configured for 3 BB/grid
Fully automated with Roller Transport System
INCLUDES:
TOYAMA TABBING MACHINES

NOMURA UNISON LAYUP MACHINES

SPIRE – NISSHINBO LAMINATORS

NISSHINBO SUN SIMULATORS AND INSPECTION EQUIPMENT
A video of the line is shown here:  
https://youtu.be/6JEg04w8bfs
The Capacity Calculation for the lines is as follows:
Cycle time of each tabber per cell produced: 5.23 sec/cell
Hours of production Per shift: 12 hours
Number of Tabbers per line: qty 7
Each module is 245 watts (60 cells, 4W per cell).
KW per line produced for each shift: 211.505736 KW
Number of shifts per day: 2
Number of Lines: 2
Number of Working Days Per Year: 337
Total MWatt per year: 285.109732
We assume total losses of 10%.
Total MWatt production per year: 256.60 MW

The engineering team who installed and supported the line are available to answer any further technical questions, and also for eventual dismantling.
Inspection of the line is available by appointment.
To schedule an inspection ,
please contact our sales manager in the UK, Duncan Lovett.
Duncan has a wide-ranging experience of industrial equipment sales and marketing , built up over the years since 1983.
Duncan can be contacted as follows:

Duncan Lovett
Sales Manager (Europe)
email: duncan@fabsurplus.com
Office: +44 1980 660 965
Mobile: +44 7410-015-583
Skype: duncan_1947
---
OTHER SOLAR LINES CURRENTLY AVAILABLE FOR PURCHASE VIA SDI-FABSURPLUS:
BACCINI 35MW SOLAR CELL LINE
http://www.fabsurplus.com/sdi_catalog/salesItemDetails.do?id=54859
BACCINI DRYER

BACCINI CELL TESTER END OF LINE

CENTROTHERM E2000 SOLAR FURNACE
Manufacturer: Baccini
Model: 35MW Solar Cell Line
Description: Solar Cell Print line for Mono or Poly Crystalline Solar Cells
Comments: De-installed and warehoused in March 2012.
Location: Port Klang, Malaysia.
Front end of line (Printers and dryers, chip and crack camera) s/n: 900140650010
Purchased from Q-Cells.
Fully Automated Line Polycrystalline Solar Cells
16% plus efficiency cells


Equipment includes the following:- 
1 x Redmann loader-cassette to conveyor 
1 x Conveyor 
1 x Chip and crack camera 
1 x Baccini Printer 1 
1 x Baccini Dryer 1 
1 x Baccini Printer 2 
1 x Baccini Dryer 2 
1 x Baccini printer 3 
1 x Centrotherm dryer 
1 x Centrotherm fast firing furnace 
1 x Centrotherm cooler 
1 x Centrotherm output table 
1 x Innolas laser 
1 x Baccini unloader to stack 
1 x Baccini color sorter with flipper
1 x Baccini electrical tester
1 x Baccini sorter 1 
1 x Baccini sorter 2 


---
MONOCRYSTALLINE 10MW SOLAR CELL LINE
AMI MSP9155A SCREEN PRINTER

BEIJING SEVENSTAR PECVD
http://www.fabsurplus.com/sdi_catalog/salesItemDetails.do?id=56026
10MW Solar Cell Line
Model: Monocyrstalline
Description: 10MW Solar Cell Manufacturing line with PECVD
Comments: Fully operational Part Automated and Part Batch Process Monocrystalline Solar Cells Producing 17% efficiency Cell
Please see attachments for Equipment list with photos and the equipment layout.
Equipment list:
*Edge Isolation Machine Brand : CETC Model : M42200-21
*PECVD Machine Name : Beijing Sevenstar Huachuang Electronics
Model No. : L42500-4/ZM Capacity : 100pcs/run per tube
*Graphite Boat for PECVD (for 156x156mm wafer) 100pcs/boat
*Power Supply PEII5K Advance Energy 1. S/N : 728041 2. S/N : 728091
*ACT Stack to Cassette Elec: 230V, 10A
*AMI Presco MTF-S1 Solar cell flipping tool
*AMI Presco MSP 9155A printer
*AMI USP206-2E Conveyer for solar wafer AG exit to Despatch furnace
*Despatch CDF-7210 Furnace Serial No : 175365
*AMI Presco UCL-TS solar wafer picking and placing robot Serial No: 774206/07
*ACT solar wafer picking tool, custom design
* AMI CP-885 printer
* AMI UCL-TS Solar wafer picking and place tool
* AMI MCD2400 Dryer (AL Dryer)
* AMI Presco ACL – TS post dryer solar wafer picker s/n : 774201/07
* Color Sorter Machine ASM B8-80329 Elec : 240V, 13A
* dryer 1 Jing Gang Dryer (custom made) 415V 3Ph, 20A
* Control Unit 4 Control Box for AMI Pick & Place Unit

Location: Port Klang , Malaysia
Current status of the equipment: warehoused and crated
Here is the capacity calculation:- 
1200 X 4watt cells = 4,800 watts (these are LDK 4 watt Solar wafers) 
4,800 watts X 24 Hr = 115,200 
115,200 X 7 days = 806,400 Watts 
806,400 X 52 Wks. = 41,932,800 watts 
41,932,800 X .8 production = 33,546,240 Watts 
The tools have been de-installed and are presently stored in a climate controlled environment. 
The tools are not crated so you may do a visual inspection if desired. 
There are some video showing the line on youtube. 
Here are links to the videos:
http://www.youtube.com/watch?v=jefuJsxBGDY
http://www.youtube.com/watch?v=I7wetRMVri4
http://www.youtube.com/watch?v=IEeEiiciwWE
http://www.youtube.com/watch?v=MDYs7vuNYiM
http://www.youtube.com/watch?v=Ym5vzDv6EzU
This system is used for the production of solar cells by the silk-screen printing process.
This process allows the production of:
-Conductors
-Resistors
-Dieelectrics
-Glass protections
-Cross-overs
The loading of the system is carried out by a conveyer with vision system. Wafer cells arrive from a conveyer to a Baccini 
conveyer and here, by a vision system the cells are aligned and put on a walking beam, by adjusting the speed of the first
conveyer you can obtain loading heaps of 4 or 6 cells.
Printing head resolution is approx 0.5nm
---
QTY 2 SOLAR MODULE ASSEMBLY LINES, CAPACITY 20MWp
http://www.fabsurplus.com/sdi_catalog/salesItemDetails.do?id=92018
20 MWp
Model: Solar
Description: Qty 2 Module Manufacturing Lines
Version: 450 cm x 230 cm
Vintage: 01.06.2008
Quantity: 1
Sales Condition: as is where is
Lead Time: immediately
Comments: Please find hereafter the information of 2 production lines of solar panels to sell.
The lines are still installed, and regularly maintained, but not currently producing. We recommend inspection of the equipment to fully understand the conditions of the machines.
Dismantling and re-installation service is available.
The first line was manufactured and acquired in 2007 and started production on 2008
The second line was acquired on 2008.
In 2009 and 2010 the lines were in full production.
At the end of 2011 the production ceased due decrease of demand.
The lines start to produce again from June 2012 to September 2012, when they ceased production definitively.

The acquired technology is SPIRE SOLAR, a partnership between SPIRE and NISSIHINDO, and the oven for lamination is NISSIHINDO
Full production requires about 15 people
Capacities:
Each line has a capacity of 12 MGW, so total capacity is 24 MGW.
The Cell sorter has a capacity of 20 MGW and the simulator of 72 MGW (can serve 6 lines)
The assemblers can produce around 600 cells/hour (depending obviously on the sizes of panels).
In the laminators the maximum size panels are 450 cm x 230 cm.
Please find attached an excel with the inventory of the machinery and pics of the equipment.
The lines are fully automated , except the last step (frame construction).
I look forward to getting your equipment requests and available equipment lists very soon.
Thanks so much for your kind attention.
SDI Fabsurplus LLC
Duncan Lovett
Sales Manager (Europe)
email: duncan@fabsurplus.com
Office: +44 1980 660 965
Mobile: +44 7410-015-583
Skype: duncan_1947
WWW.FABSURPLUS.COM