COMPLETE 257 MW SOLAR MODULE
MANUFACTURING FACILITY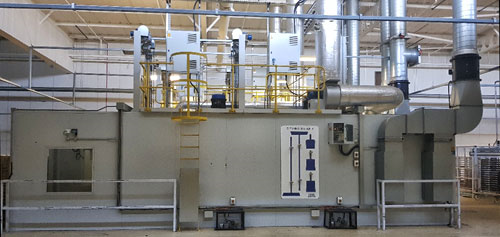 On Behalf of Hotpack Packaging (UK) Ltd. and Ash Group Ltd., SDI-Fabsurplus is pleased to announce the immediate sale of a Complete 257 MW Solar Module Manufacturing Facility via closed-bidding.
Location: Wrexham, UK
The former production Line of Sharp Solar (UK) Ltd.
Recent vintage
Still installed
Available immediately
Can be inspected by appointment
Please refer to the attached photos showing details of the equipment and the line layout.
Estimated annual output capacity:257 MW per year
Virtually all items making up the line were purchased in 2010-2012.
Following the $15M USD upgrade in 2010-12, the line was operated for less than 3 years until 2014
Made up of 2 lines , each of approximate capacity 128 MWp
Currently configured for 3 BB/grid
Fully automated with Roller Transport System
INCLUDES:
TOYAMA TABBING MACHINES

NOMURA UNISON LAYUP MACHINES

SPIRE – NISSHINBO LAMINATORS

NISSHINBO SUN SIMULATORS AND INSPECTION EQUIPMENT
A video of the line is shown here:

And here is another video:
The Capacity Calculation for the lines is as follows:
Cycle time of each tabber per cell produced: 5.23 sec/cell
Hours of production Per shift: 12 hours
Number of Tabbers per line: qty 7
Each module is 245 watts (60 cells, 4W per cell).
KW per line produced for each shift: 211.505736 KW
Number of shifts per day: 2
Number of Lines: 2
Number of Working Days Per Year: 337
Total MWatt per year: 285.109732
We assume total losses of 10%.
Total MWatt production per year: 256.60 MW

The engineering team who installed and supported the line are available to answer any further technical questions, and also for eventual dismantling.
Inspection of the line is available by appointment.
Auction Catalog
Here follows the list of lots available for purchase in this sale, also listed in the attached excel file, also available at the following link:
You may bid on the complete line, or submit your bid for any of the individual items , separately. To See photos and technical specifications regarding each of these lots for sale, please click on the links shown below. To place a bid, please compile the auction agreement, attached, with the SDI ID of each lot which you wish to purchase, and send it back to us scanned, in order to register your bid properly.
How to Submit a Bid
All assets will be sold by "Closed bid".

Click here to download a copy of the bid submission form.

PLEASE FULLY COMPLETE AND SIGN THE ATTACHED BID SUBMISSION FORM, THEN SCAN IT AND SEND IT VIA E-MAIL TO: auction@fabsurplus.com.
Closing date
All bids should be submitted before 17:00 on Thursday, 16th May, 2019, Pacific Standard Time.
You will be notified of your winning bids within 48 hours of the closing date.
You are very welcome to come and view any of the assets by appointment.
All items are located in Wrexham, UK .To schedule an inspection , please contact our sales manager in the UK, Duncan Lovett.
Duncan has a wide-ranging experience of industrial equipment sales and marketing , built up over the years since 1983.
Duncan can be contacted as follows:
Duncan Lovett
Sales Manager (Europe)
email: duncan@fabsurplus.com
Office: +44 1980 660 965
Mobile: +44 7410-015-583
Skype: duncan_1947
---
OTHER SOLAR LINES CURRENTLY AVAILABLE FOR PURCHASE VIA SDI-FABSURPLUS:
BACCINI 35MW SOLAR CELL LINE
http://www.fabsurplus.com/sdi_catalog/salesItemDetails.do?id=54859
BACCINI DRYER

BACCINI CELL TESTER END OF LINE

CENTROTHERM E2000 SOLAR FURNACE
Manufacturer: Baccini
Model: 35MW Solar Cell Line
Description: Solar Cell Print line for Mono or Poly Crystalline Solar Cells
Comments: De-installed and warehoused in March 2012.
Location: Port Klang, Malaysia.
Front end of line (Printers and dryers, chip and crack camera) s/n: 900140650010
Purchased from Q-Cells.
Fully Automated Line Polycrystalline Solar Cells
16% plus efficiency cells


Equipment includes the following:-
1 x Redmann loader-cassette to conveyor
1 x Conveyor
1 x Chip and crack camera
1 x Baccini Printer 1
1 x Baccini Dryer 1
1 x Baccini Printer 2
1 x Baccini Dryer 2
1 x Baccini printer 3
1 x Centrotherm dryer
1 x Centrotherm fast firing furnace
1 x Centrotherm cooler
1 x Centrotherm output table
1 x Innolas laser
1 x Baccini unloader to stack
1 x Baccini color sorter with flipper
1 x Baccini electrical tester
1 x Baccini sorter 1
1 x Baccini sorter 2


---