Buy and sell used semiconductor equipment at Fabsurplus.com
SDI fabsurplus.com's mission is to help our customers properly and efficiently purchase, use and re-use Semiconductor manufacturing equipment, Flat Panel Display manufacturing equipment and Solar Cell and Module manufacturing equipment saving money for the buyer and the seller.
At fabsurplus.com, the multinational SDI-Fabsurplus Group provides a state-of-the-art on-line marketplace where technical advice, marketing, equipment listings are available for buyers and sellers of semiconductor, test, assembly, SMT, solar, FPD, AMOLED ,Laboratory and Scientific equipment.
Equipment can be sold either "as is" or in refurbished condition, operational to OEM specifications and backed by SDI's guarantee.
Recent happenings at Fabsurplus.com

30th-April-2013
Randy Harbison
We are sad to announce that Randy Harbison passed away suddenly on 29th April. The Fabsurplus.com team extends our condolences to his family and friends. Randy was a larger than life character who will be sorely missed both within fabsurplus.com and the wider used semiconductor equipment community. Rest in Peace, Randy.

19th-Mar-2013
Fabsurplus.com Used Equipment News Semicon China 2013
Fabsurplus continues it's global expansion. We have representatives now in Ireland, Italy, Japan, China and at various locations in the USA. We are please to announce that Tal Levin is now representing Fabsurplus in China. Tal has 20 years of experience as a Sales Manager working for such companies as OEM Group, Norcimbus and Ham-Let. He has lived in Shanghai since 2007, and has set up and managed direct sales channels in Japan, Korea, Taiwan, Singapore, Malaysia and Israel during that time. This week Tal Levin will be attending Semicon China. He will be happy to meet you to discuss purchase or re-marketing of used semiconductor, test, Assembly, FPD and Solar manufacturing equipment. Tal Levin can be contacted as follows: tal.levin@fabsurplus.com or phone:
+86-138-1785-2188
Featured Equipment for Sale - March 2013
Featured Spare Parts for Sale - March 2013
Solar Cell Manufacturing Equipment for Sale - March 2013
Wanted Item March 2013
Our worldwide agents are looking to purchase immediately the following items of equipment:-
* Axcelis Optima HDX.
* Axcelis GSD VHE.
* Canon AS4.
* Disco DFD 651
* FSI Magellan.
* Hitachi LS5000.
* KLA AIT XP Plus.
* KLA Aset F5X 200 mm SMIF with SWE option.
* Lam 9400 PTX.
* Lam Kiyo.
*Multitest 9918 or 9928 dual or tri temp handler.
*Orthodyne 7200.
*Nikon S206D.
*Nikon I14 OR I14E2.
*Topcon Vi4303FX.

5th-Jul-2012
Semicon West July 2012
This year we Advertised at Semicon West. Take a look at the photos here....


....and here....(Nice suit Steve)...


...and our print advert...



Infineon Equipment Re-sale
As part of our strategy to expand support for secondary equipment re-marketing, we are please to announce that fabsurplus.com will continue to re-market Infineon Technologies Surplus Equipment with emphasis on the 300 mm equipment and bridge tools from Infineon Dresden. Offers are welcome on individual items or on the complete equipment set. The tools are around 2001 vintage, but were mostly installed in their current place in 2007, when Qimonda was ramping their 46 nm production. The tools were upgraded and reconfigured then by the OEMs to the latest revision. We are available to fully support you if you need to buy this equipment, with supply of technical information, on-site visits etc. Resale Highlights include:
AN APPLIED MATERIALS 5200 CENTURA AP 4 CHAMBER HART DEEP TRENCH ETCHER
AN APPLIED MATERIALS 5200 CENTURA AP 4 CHAMBER DIELECTRIC / METAL ETCHER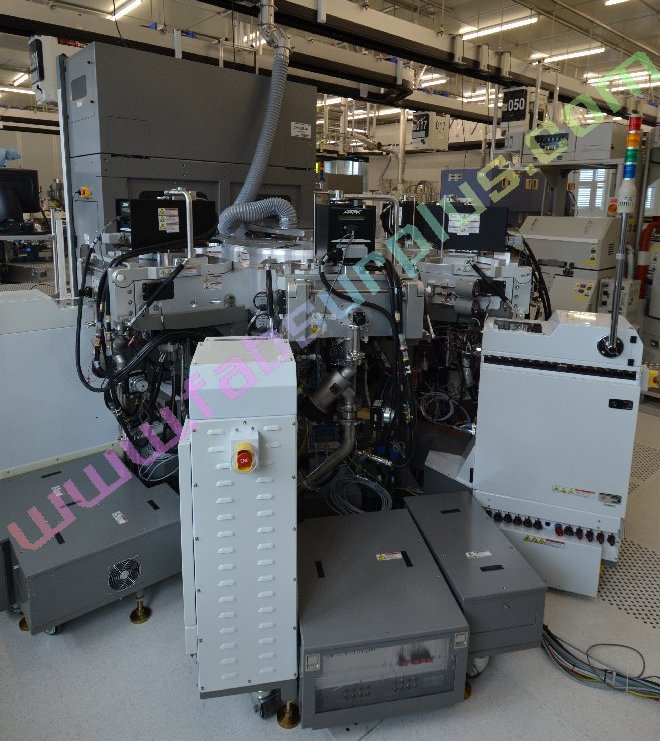 A HITACHI S5200 RASTER-SCANNING HIGH RESOLUTION INSPECTION SEM
A JORDAN VALLEY JVX5200 X-RAY REFLECTOMETER INCLUDING SMALL SPOT XRF
A KLA-TENCOR KLA eS32 2053 Defect review SEM
A LAURIER DS7000 DIE SORTER
A Tokyo Electron Lithius Clean Track:-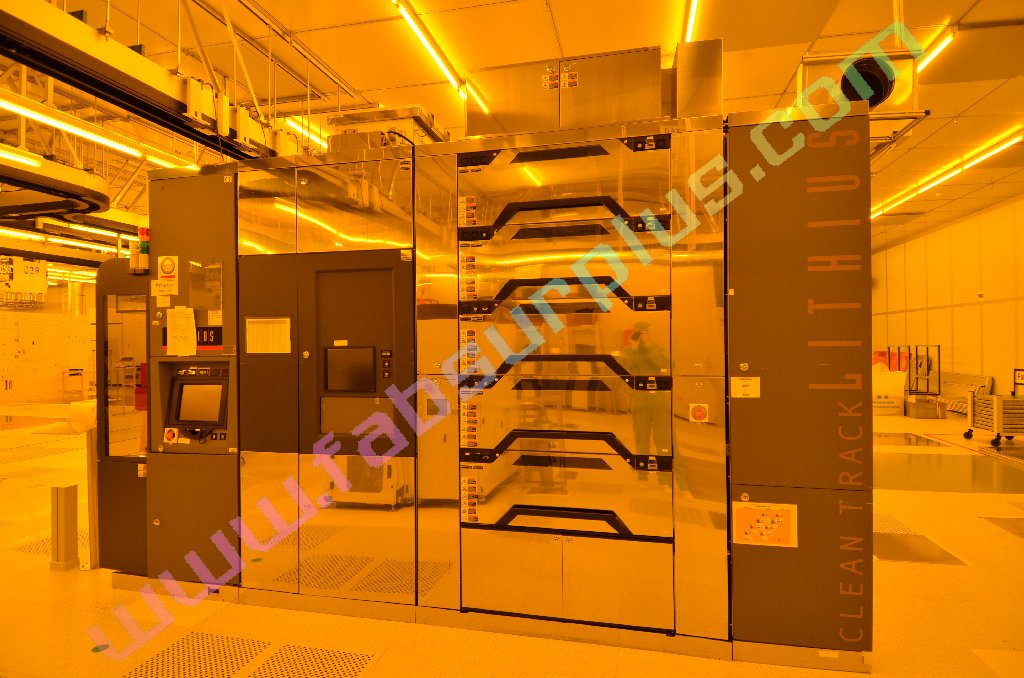 An ASML Twinscan 1100 DUV 193 nm lithographic scanner upgraded with high throughput and twin-phototrack options:-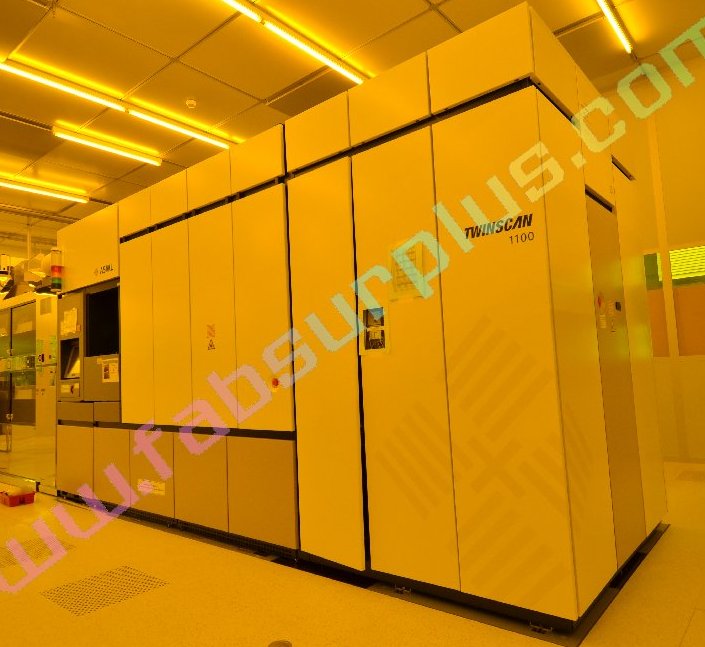 An FEI DA 300 FIB SEM , configured for 200 and 300 mm wafer loading:-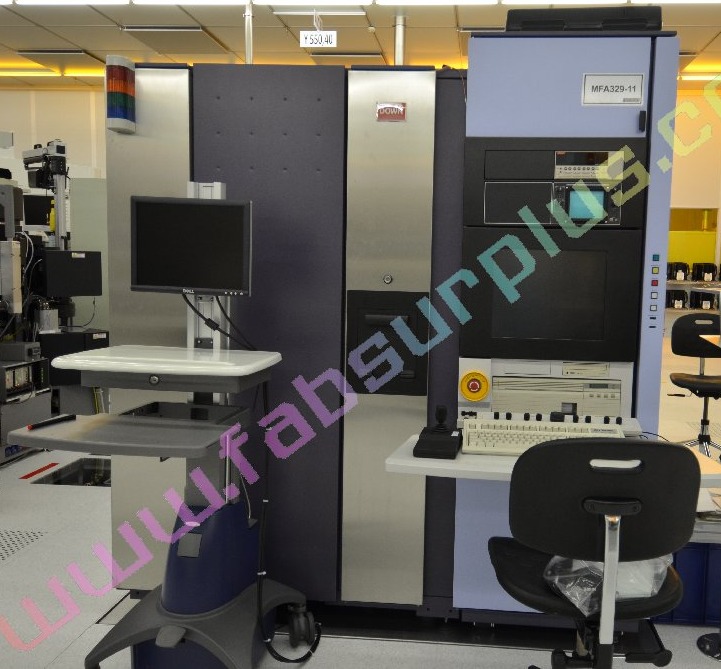 KLA AIT XP Fusion particle detection equipment
A KLA Puma 9000D defect detection system:-
Advanced metrology equipment from Philips/AMS Jordan Valley and Negevtech
Advantest Test systems
For a full list of assets please click here on our Infineon re-sale List
Sale of Axcelis VHE Implanter
We are pleased to announce the completion of the sale of an Axcelis GSD Very High Energy (VHE) MeV capable implanter to our Asian client. The experience of our implant sales team leader, Enrico Vacchelli, has been very important in allowing us to offer a low cost implant sales solution backed by credible technical support which allowed us to win this business against some heavy competition from the OEM. To buy implant equipment from fabsurplus.com ,click on this
link to the implanter sales list
.
Main Sales Categories
Start looking at our catalog by browsing for Equipment owned by SDI
and Turn-key solutions: Solar, FPD and Semiconductor Fabs / Production Lines for sale
The Complete Sales List
Click here to see the complete list of all items available on sale.
The list is automatically updated daily.
The Complete Sales List
Click here to see the complete list of all equipment available on sale.
The list is automatically updated daily. It does take a bit of a while to load and it is in alphabetical order by manufacturer.
An extensive range of semiconductor manufacturing equipment available
At www.fabsurplus.com, you can find equipment from some of the best manufacturers of semiconductor manufacturing equipment and semiconductor industrial manufacturing equipment, including:
Accent
,
Accretech
,
Advantest
,
Applied materials
(also
AMAT
),
ADE
, Adept,
Advantek
,
AG associates
, Aerotech,
Alcatel
, Alessi,
Agilent
,
ASM
,
ASML
, ATCOR,
Axcelis
,
Biorad
, Brooks, Bridgeport,
Branson
, Buehler, Cambridge,
Canon
, Coherent, CPI,
Credence
, CTI, CVC,
Dage
,
Dainippon
(or
DNS - Dainippon Screen
),
Daifuku
,
Daymarc
,
DEK
,
Delta Design
,
Disco
, Dynapert,
DNS
,
Ebara
,
Eaton
,
Edwards
,
Electroglas
(or
EG
),
Esec
,
ESI
,
EVG
(or
EV Group
), Faith,
FEI
,
Fein Focus
,
Fico
, Fischer, Fluke,
FSI
, FTS,
Fuji
,
Fusion
,
Gasonics
, Gaertner, Gast,
Glow Research
,
GSI - Lumonics
, Haake, Headway, Heraeus Votsch,
Hitachi
(also
Kokusai
), Horiba,
HP
(also
Hewlett Packard
and
Verigy
), Hytec Plastics,
ICOS
, Imtec,
IPEC
, Inficon, Ion Systems,
ISMECA
, Technology, IPC,
JEOL
, K&S,
Karl Suss
, Kasper, Kenco,
Kethley
,
Kensington Laboratories
, Kevex, Kinetic,
KLA Tencor
(also
Tencor
and
Prometrix
),
Kokusai
Industrial equipment, K&S, Used semiconductor equipment,
LAM Research
, Lambda,
Leica
,
Leitz
,
Leybold
, LFE, Lindberg, LTX, Lumonics, Markem,
Mattson
, McBain, MCT,
Meco
, Metron tech, Micromanipulator,
Micro Vu
,
Mitsubishi
, Electronic test equipment, Mitutoyo, MPM,
MRC
,
Nanometrics
, NAPCO, Neslab, Nicolet,
Nikon
, used semiconductor equipment,
Nissin
,
Nitto Denko
,
Novellus
, NRC,
Oerlikon
(also
Balzers
and
Unaxis
),
Okamoto
,
Olympus
,
Ontrak
,
Oriental Motor
, OSI,
Oxford Instruments
, Pacific Precision,
Panasonic
,
Perkin-Elmer
, Plade,
Pfeiffer
, Philips, Polyflow,
PRI
,
Prometrix
, Quantronix, Recif, Reichert,
Rigaku
,
Rudolph Research
,
RVSI
,
Schlumberger
, SCP, Seiko, Semifab,
Semitool
,
Shinkawa
, Siemens, SMC,
Speedfam
(also
IPEC
),
Steag
,
Sumitomo Eaton Nova
, Strasbaugh,
SVG - Silicon Valley Group
, Symtek,
Systemation
,
Takatori
,
TEL - Tel Tokyo Electron
,
Tencor
,
Teradyne
, Tenny,
Therma-Wave
,
Thermco
, Thermonics, THK,
Trikon
(also
Aviza
)
TSK
, Tylan,
Ultratech
,
Ulvac technologies
,
Unaxis
,
Universal Electronics
, Ushio,
Varian Instruments
,
Veeco
,
Verteq
, Vickers, Vision, Vitronics, VWR,
Watkins-Johnson
,
Wentworth Laboratories
, Wed, Wild, Wyco, Yamada, Yamaguchi, Yokogawa,
Zeiss
.
You can search for the above manufacturers and also for others in the
Buy Equipment
page.